Where it gets slightly weird...
We woke up refreshed, after what had probably been the best night of sleep so far (by best, I mean longest amount of hours unconscious) and promptly rolled into breakfast downstairs. For a two star hotel, the spread was pretty fantastic - cheeses, meats, apples, oranges, bread and other various honeyed fruits were on the agenda. I don't know why I poured myself a glass of orange squash, as the colour of the liquid did nothing to improve my post-dye trauma. Unsurprisingly, we had the place to ourselves.
After breakfast, we finished packing, thinking we had plenty of time - we
did
- until we got carried away in chit-chat and ended up having to dash to the station in a record fifteen minutes. Ting bought us tickets for 10.40 Levas each - the equivalent of just under a fiver - and we found a space on the train for our three hour journey.
I guess when you're speaking English loudly, you're bound to be noticed, and in our case, a girl a few seats away turned to us and asked us where we were from before boldly asking if she could come and sit with us. This was the first bit of youth contact that we'd had in a while, which was extremely refreshing, given her bubbly personality and her endearing accent when she spoke English. Ioanna and I hit it off instantly when we both discovered that the other person liked anime - don't think Ting was very impressed haha. Turns out the kid was travelling to Burgas too, as was her cousin who also came over to join us. Classic metal-head. Yeah, we had a lot to talk about.
He asked us to come and sit with his friends, who happened to be sitting at the end carriage next to the toilet. Pleasant. During our chats, I found it fascinating how they all expressed disdain towards gypsies, sharing a common attitude that I don't quite understand. Later on, I asked them about whether there were bears here or not and set off some banter that eventually led to them (two of them are in a band together) to start writing a song on the spot about something they'd made up called beach bears. I can only guess at what that concept is alluding to... ¬_¬
In Burgas, Ioanna offered to show us around and help us find accomodation. On this journey, I stepped onto some uneven ground and twisted my ankle, effectively wrecking it as it was still weak from the time I'd twisted it in Lacrosse Cuppers. It caned like hell, but I kept on going until we came to the hotel. The price they wanted was 55 Levas, but as I was very very short on cash, I insisted we go elsewhere - not realising that Ioanna would then take us to the place her mother worked at and get her family to find us cheaper accomodation. I am
so
oblivious... :S
At the office, we bumped into Ioanna's cousin there too. Her mother worked in advertising and found us a bit of a novelty - by the time we left, at least ten photos had been taken. Ioanna, her cousin and another guy took us to a different hotel where they charged us 40 Levas (Ting thinks they'd had to negotiate the price which made me feel kinda bad) and after dropping off our stuff, Ioanna came with us to get pizza for lunch but had to leave to run an errand for her mother.
After Ting warded off a guy that she later told me was a gypsy (once again, my oblivion kicks in), Ting and I chilled in town for the rest of the afternoon. I bought a bandage for my ankle, and Ting went hunting for gifts before we headed to the Sea Gardens - finally we were at the coast!!
In terms of beaches, I've seen better, but I can't remember the last time I was at the beach (Venice?! If that's the case then at least five years ago :S), so I made the most of it by going camera crazy.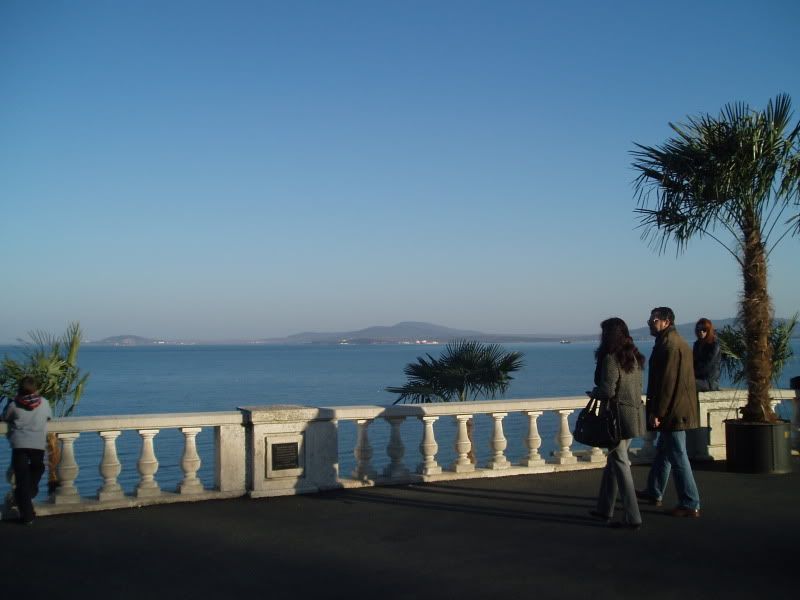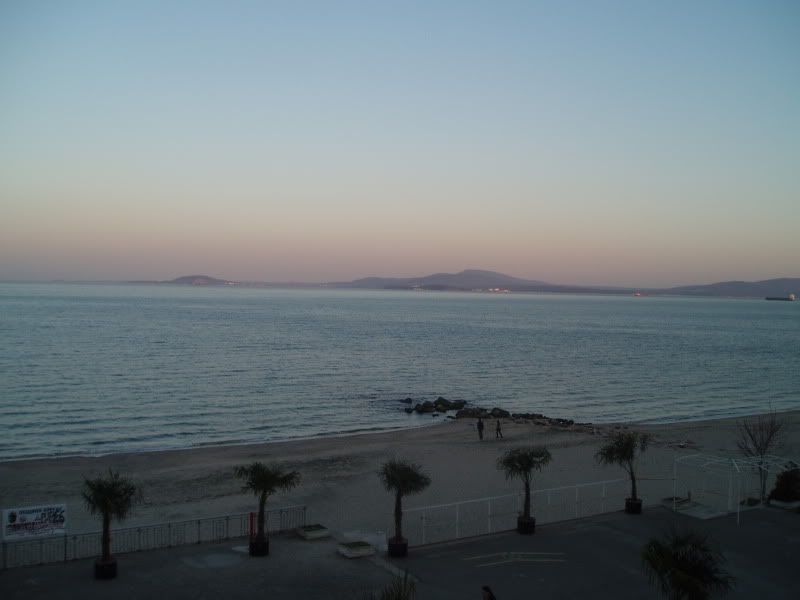 Am waiting for Ting to upload some of her photos as they are much better than mine!
Once we were bored of the beach, we went back to the hotel and did some packing before going to the big clock landmark to meet Ioanna and her friend at 7pm. On the way, I had a budget slice of pizza, and when we all met up, Ioanna took me to another fast food place to get a cone shaped thing that consisted of some kind of pitta bread-like exterior, chips, chili sauce and slices of meat.
In Bulgaria they have places that sell coffee by day, and then drinks by night, and this is where we headed to next. Yes, that's right, and that is how Ting and I ended up drinking with two (underage) sixteen year olds, the cool cats that we are. Oh dear indeed.
Cocktails were cheap and came with free shots, so it didn't really matter that I couldn't read the menu at all. Ioanna and her friend shared a milkshake, and I quickly accepted the fact that I was not going to have a smoke-free night, yes, indoor smoking is still legal here. Ioanna's cousin, another cousin, and her older sister showed up, and after we left the bar, we let them lead us way way north to a stretch of beach, me half supported by Mitko as I couldn't actually put any weight on my ankle at all.
By the time we arrived, I was freeeezing and ended up acquiring clothes from everyone - I think I was wearing seven layers in total! We hung out at the beach way into the night, doing chavvy things like playing music on phones - one of Ioanna's cousins entertained us by dancing in amusing ways to the songs. Eventually it got too late (i.e. past midnight) and so we began to head back. Many detours later, we arrived back at the hotel at what must've been 1 or 2am. I then thought it was a good idea to wash my hair before bed, and as we had no hairdryer, that turned out to be a -really- good idea...not. Ach, the fanciful notions of the drunk.