Only managed to write half of this entry before my Kindle decided it's battery was too low, so I've had to finish it at home.
Woke up again from the cold, this time at half five, but it was OK, as there was only an hour and a half to go until we had to wake up, pack and leave for the bus stop! A guy in an ancient minibus took us and two American travellers to the train station, a building in the middle of nowhere where the only other animate objects were a kitty, a doggy, another doggy with a weird nose that clearly wanted Ting's breakfast, and some men that looked as if they wanted our luggage (and maybe something more).
As expected, the 08:51am was late, and clambering onboard was a pretty clumsy affair, especially when the steps to the train were so high up! Once we were on board, we found some seats in a quiet compartment and bought tickets from an inspector when he came over.
We arrived in Kazanlak around lunchtime-ish. My first impression of the town was that it looked like it was at the same level of development as Sofia, if not slightly more touristy. In terms of aesthetics, it wasn't incredibly pretty - the town's main attraction are the Thracian Tombs which aren't actually in the town itself; they're many many miles away! Anyway, we made our way to the information centre to seek information about finding a place to stay for the night. The woman there gave us directions to a relatively cheap hotel with a room for 40 Levas.
After dumping our stuff, we went in search of food, dining at a very un-Bulgarian bar and grill. The binge-fests of the last two days, left me requesting just a Shepherd's salad and chocolate milkshake for lunch - I amassed a bill that was smaller than Ting's for once! Lunch over, we went back to the station to check up on departure times for the next day (and witnessing another horse drawn cart - oh my!) and then went to a supermarket to pick up some food supplies.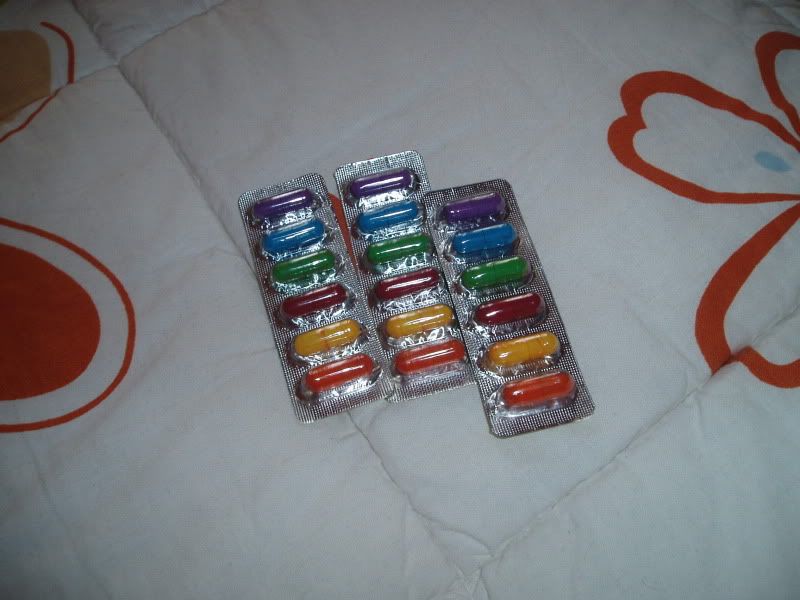 These are the 'sweets' I bought...
I bought oranges and what I thought (and what Ting had said) were some Bulgarian sweets but upon first hand experience, turned out to be disgusting dyes! ARGH!! This I did not discover until we were back in our hotel room, after I'd popped one of the pills, registered bitterness and then spent the next ten minutes or so hawking up orange spittle, convinced I was going to die. Even thinking about it right now brings up that bitter taste, eurgh! Ting took one look at the back of the packs, read the Romanian, and was then like, oh, it's dye. So much for my placing my trust in her throwaway comment earlier!! And I'd thought they were such a novelty too, to package sweets into what looked like drugs... ¬_¬
After I'd gotten over the fact that I'd probably ingested some very concentrated dye, we went to a history museum and had a guided tour of stuff from Bulgarian olden times, the rose trade, and Seuthopolis, an ancient Hellenistic city back in the day. There are some very sci-fi looking plans to rebuild the city as such:
Pretty cool, huh?
As the main Thracian tombs were too far away, we went to the reconstruction one at the edge of the town, which was still pretty cool. It was located in a park that held a bear statue which ensued much hilarity for at least ten minutes - both Ting and a random chubby kid were able to ride that beast, but I was such a massive fail. Pride would not let me leave without taming the bear, so we stuck around until the kid had left and then I went in for round two, eventually succeeding when I climbed it from the other side. Yay.
Afterwards, we walked around for a bit, apparently got followed by some guys (to which I was oblivious), went shopping for ritalin (didn't find any in tablet form), nail polish, and once we'd finished painting our nails, we went for a meal at one of the restaurants that Ting's trusty guide book had mentioned. There, I ate my usual fill of salad, chips, and clay pot containing chicken, chili, onions, and tomatoes. By the time we left, it was pretty late, so we didn't really do much else - Ting took a nap and I tried and failed to update this blog.